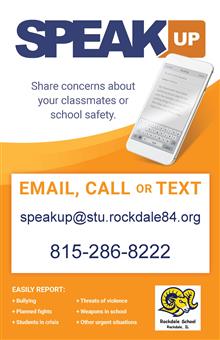 ROCKDALE SCHOOL DISTRICT 84 SAFETY TIPLINE
Rockdale School District 84 and Gaggle would like to announce a partnership to keep students and schools safe by providing a simple way for students to report threats of violence, bullying, weapons brought to school, peers in crisis and other urgent situations.
The Gaggle SpeakUp Safety Tipline integrates directly with G Suite for Education from Google, which students already use on a daily basis. There's no need for students to download a mobile app or remember a phone number. SpeakUp replies include a phone number that students can use for text messages or phone calls.
Trained Gaggle Safety Representatives evaluate SpeakUp tips 24/7/365 and send an email regarding non-life-threatening items to designated school or district staff. They will also call school officials in emergency situations and can even contact local law enforcement.
Gaggle has been providing safe online learning products and solutions to the K-12 market since 1999. The company's focus remains on student safety so educators can have the confidence to allow learners to take advantage of current technology for communication, collaboration, and learning. To learn more about Gaggle, visit http://www.gaggle.net.
Here is the Gaggle SpeakUp Tipline contact information:
SpeakUp Email Address: speakup@stu.rockdale84.org
SpeakUp Phone # (Voicemail & Text): 815-286-8222